Vegan Spanakopita Greek Pie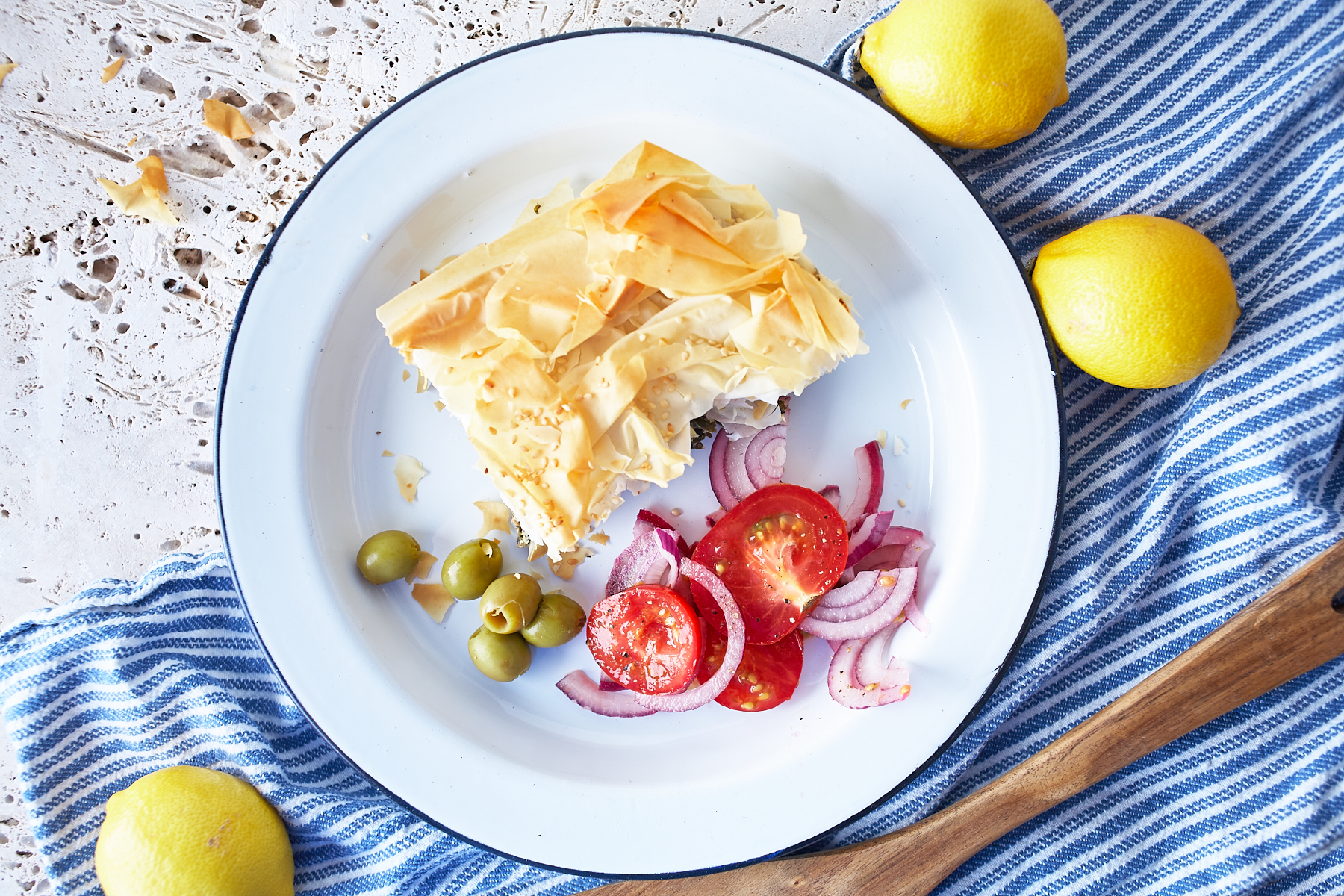 Crumbly, flaky, melt in the mouth pie. Have I sold it to you yet? Oh, my goodness if I haven't then you need to read on and grab this recipe now because this pie is all kinds of yummy. (Toot my own trumpet much?) Apologies for the fan fare but this recipe has been on my crave list for a while now and I had no idea how simple it would be to create the creamy, salty taste of the Greek spanakopita pie, vegan style-ee!
OK, so I first had a taste of this pie when I went to Greece many years ago (pre vegan) and fell in love with its crunchy top and soft middle taste bonanza. Admittedly I had drunk a fair amount of the local wine also so it is a very fond, yet fuzzy memory. Later I had the fortune of a Greek friend making it for me and it took me straight back to the sunny shores of Crete. I had never attempted it myself because it seemed like a really fiddly dish that I felt was beyond my capabilities and then over time it just became one of those special meals that you don't forget and wish you could have.
Since turning Vegan I have made it my mission to try and recreate the impossible and that brought my mind straight back to this little beauty. It was the perfect challenge, as an original spanakopita recipe contains no less than 4 eggs and copious amounts of feta cheese! So whether you are vegan, have a dairy intolerance or you're just trying to cut down on the calories and cholesterol this really is the spanakopita inspired Greek pie you're after.
Servings: 4 People
Ingredients
For the almond cheese:
1 1/2 cups almonds soaked overnight or 3 hours in warm water
Juice of 1 1/2 lemons
3 cloves garlic
1 tbs nutritional yeast
1 tbs plain soya yoghurt
1 tbs olive oil
3 tsp water
1 tsp salt
For the rest of the pie:
16 sheets of shop bought filo pastry most are vegan, just check the ingredients list
200 g bag of kale
200 g bag of spinach
1 medium pot of curly parsley or a very large handful
1 tbsp olive oil
2 tbsp water
6 sundried tomatoes in oil
Juice of 1/2 lemon
2 tsp sesame seeds
1 tbs melted butter for brushing
Seasoning to tatse
Instructions
To make the almond cheese soak your almonds either in cold water overnight or warm water for 3 hours
Discard the liquid after soaking and rinse with clean water
Then blitz all of the ingredients together in a food processor until finely chopped and a little creamy. Don't worry about small chunks because it adds to the texture of the pie
Next, add the water and oil to your chosen pan (needs to be big enough for all of those greens) and wilt all of your greens down until they are a quarter of their original size
Drain any excess liquid off the greens and once cooled pop onto a chopping board and chop them down into smaller pieces to avoid getting stringy pieces. (Also remove any major kale stalks)
Chop up the sundried tomatoes and add them and your greens into a bowl
Next season to taste and add the juice of 1/2 lemon
Stir the almond cheese through your greens mixture until creamy and combined
Next melt your butter ready for the pasty
Lie your first pastry sheet into the bottom of your dish (you may need to cut your sheet down a little but make sure your sheet is larger than the bottom of your dish so you have a flap to fold over at the end.)
Brush with butter and lay the next sheet on top and continue until you have 8 pastry sheets layered with butter
Add your filling on top of the pastry and spread out evenly
Now continue with 6 more pastry sheets and butter layers on top
Then begin to fold the bottom sheets over the top in a crumpled way
Brush 2 more sheets with butter and crumple them up to put in the middle of the top. This means that the top layer should be covered with lots of lovely folds and rifts that will go golden brown in the oven
Brush with a little melted butter and sprinkle with sesame seeds
Bake in the oven gas mark 4/350f for approximately 45 minutes. As it is all already cooked inside you are just baking the pastry. Keep an eye on it so it is an even golden colour, you may want to turn it a couple of times to ensure an even bake.
Recipe Notes
Please allow overnight for soaking almonds. You will also need a pastry brush and a suitable sized oven dish. Ours was approximately 20cms x 15cms.
If you fancy wowing your friends or you simply want a quiet cosy dinner then this pie is for you. Pop the dish in the oven and let the aroma greet you with a little sunshine. Serve with a simple tomato and onion salad, drizzled with olive oil and balsamic vinegar and pour yourself a glass of wine (if you drink). Now close your eyes and listen carefully…. you can almost hear the lapping of the Aegean sea. Aaah…Yiamas!