Mamma's Veggie Pies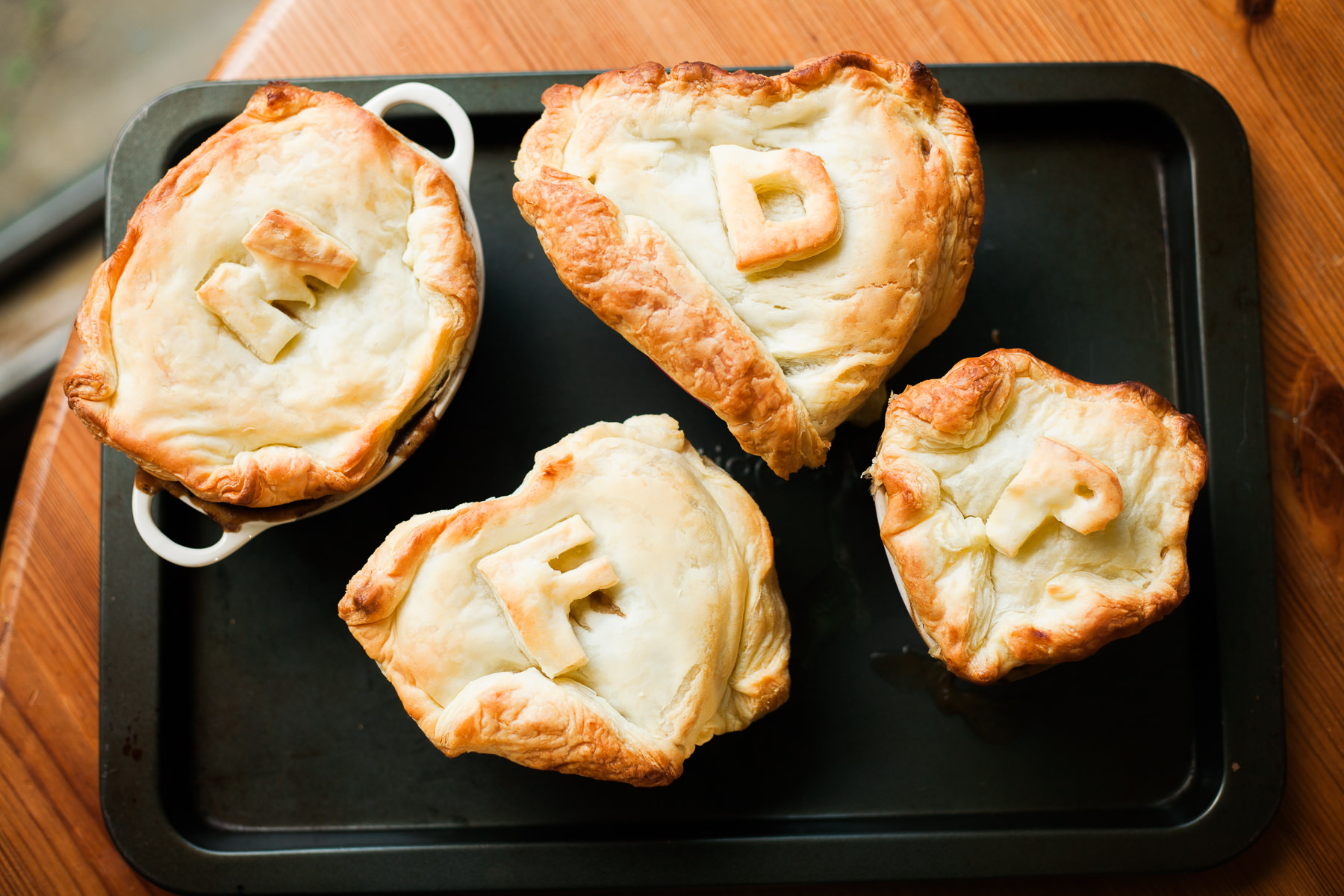 So I was having a gravy craving when thinking about what to do for dinner tonight. I had spent most of the day doing housework and decided that a clean house and a big dinner would be the perfect welcome home for hubby. It really was a mess when he left for work this morning. So much so that he actually text me mid-morning to see how I was getting on and most probably to check I hadn't drowned under a pile of clothing/books/toys you name it.
I'm still really new to the whole vegan thing so I thought I'd experiment with the contents of the fridge to see if I could come up with a new family favourite. Behold I introduce you to 'mammas veggie pie!' It was really scrummy and went down well with the kids too. Bonus!
Makes 4 individual pies
Ingredients
5 chestnut mushrooms sliced
1 Leek sliced
2 Carrots chopped
1 cup peas
4 New potatoes cut into chunks
1/2 cup pearl barley
1/2 cup edamame beans
Vegan gravy of choice
Mint sauce (optional)
Ready rolled vegan puff pastry
Instructions
Cook all veggies separately using your preferred method of cooking. I fried the mushroom and leek in my cast iron pan to aid iron absorption and steamed my veg. I boiled the pearl barley for 10 minutes as instructed to on the packaging
I then filled each individual pie dish with a selection of each ingredient and topped with my vegan gravy. (I added a dessert spoon of mint jelly into a pint of gravy for extra yummy-ness ) and topped each pie with the ready roll pastry
I made pretty pastry initials to top each pie and popped in the oven on gas mark 4 for about 20 minutes
I served with sweet potato mash and a big pile of kale. Mmmmm!
They will be extremely hot inside so you may want to make them ahead for kids to give both the dish and the filling time to cool a little. You could freeze these before the pastry baking stage and as with any recipe you could change the vegetables or flavourings to suit you and your families tastes. I hope you enjoy this recipe as much as we did. Let us know how yours turns out.