Homemade Basil and Walnut Pesto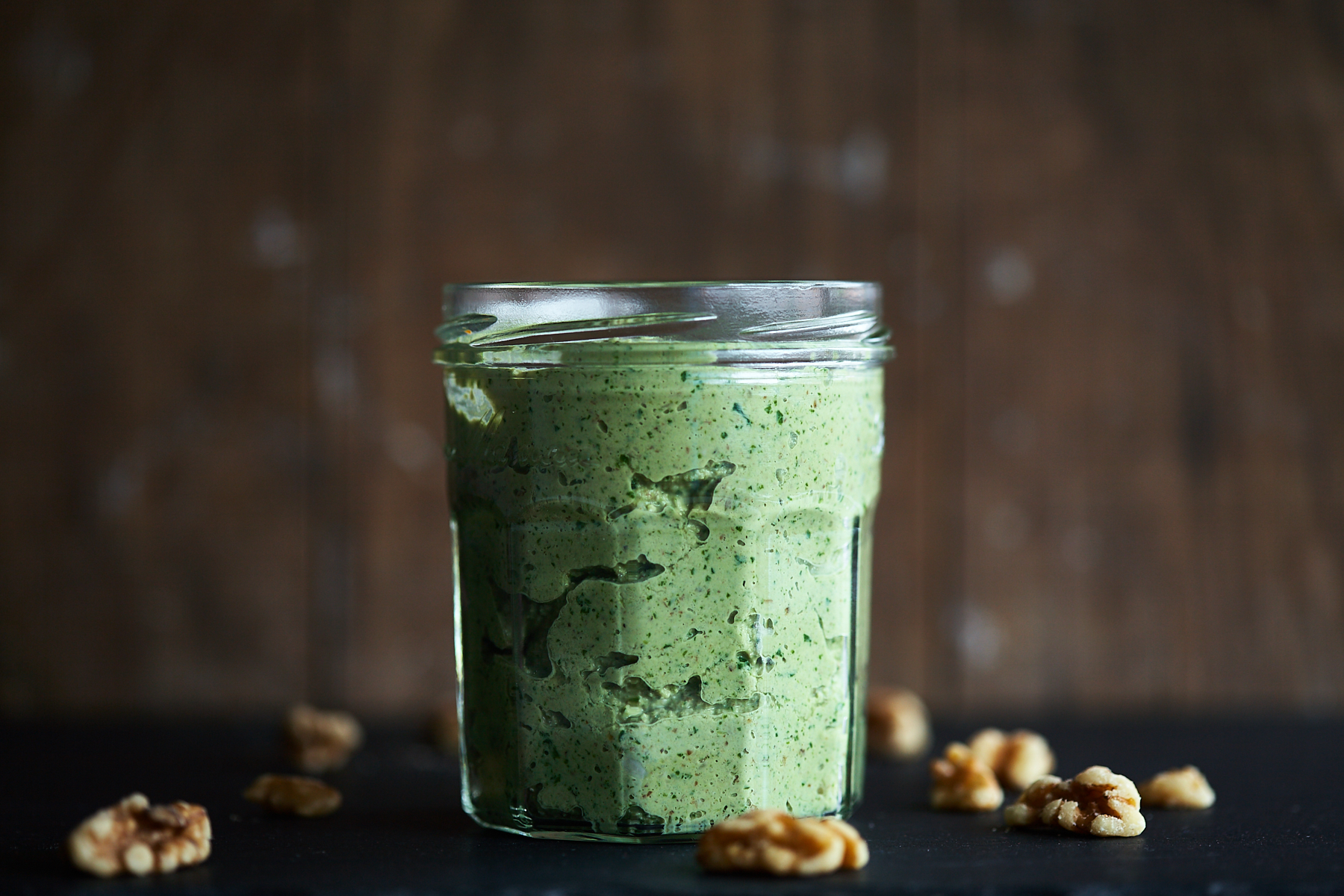 Pesto has always been our families 'go to' for a speedy pasta sauce. Before becoming a vegan it was so simple to just grab a jar of pesto and a bag of pasta and serve up a super speedy dinner when I was really pushed for time. Then we became vegan and finding vegan pesto has turned out to be a little bit more of a mission. You can find it for sure but it is not stocked in every supermarket or local shop so it seemed like the perfect time to experiment with my own recipe.
Pesto is a sauce originating from Genoa in Italy. It traditionally consists of crushed garlic, basil and pine nuts blended with Parmesan cheese and olive oil. Clearly, we needed to find a substitute for the cheese but I thought maybe we could experiment with some of the other ingredients too.
I am always on the lookout for plant-based ways to get calcium into our family. Let's face it the kids don't always fancy greens and beans! So I got my thinking cap on and one great way of getting extra calcium into your diet is to eat walnuts. I thought this would make a great swap out for the pine nuts. 100g of pine nuts contains 16mg of calcium yet 100g of walnuts contains a whopping 98mg of calcium! That means this recipe combined with the 40 mg of calcium from the basil contains 138mg of calcium. Perfect for pasta sauce, dropped onto pizza or used as a dip, you can be sure that this creamy pesto is not just tasty but also full of important nutrients for you and your family.
Serves: 6 People
Ingredients
100 g walnuts
1 medium pot of basil or a large bunch
Juice of 1 lemon
1 tbs nutritional yeast
2 cloves of garlic cooked
3 tbsp olive oil
3 tbs water
Instructions
This is too easy! Put all of the ingredients into your food processor and blitz until creamy. (I like to leave some small walnut granules but it's your preference on texture)
It may not be as speedy as popping open a jar but this recipe freezes well so if you make a few batches at a time then your next quick pasta meal is a freezer away. I hope you enjoy this recipe as much as we did. I'd love to hear from you if you have any other exciting variants on pesto. Have a happy week, friends.