Yummy Scrummy Vegan Sausage Rolls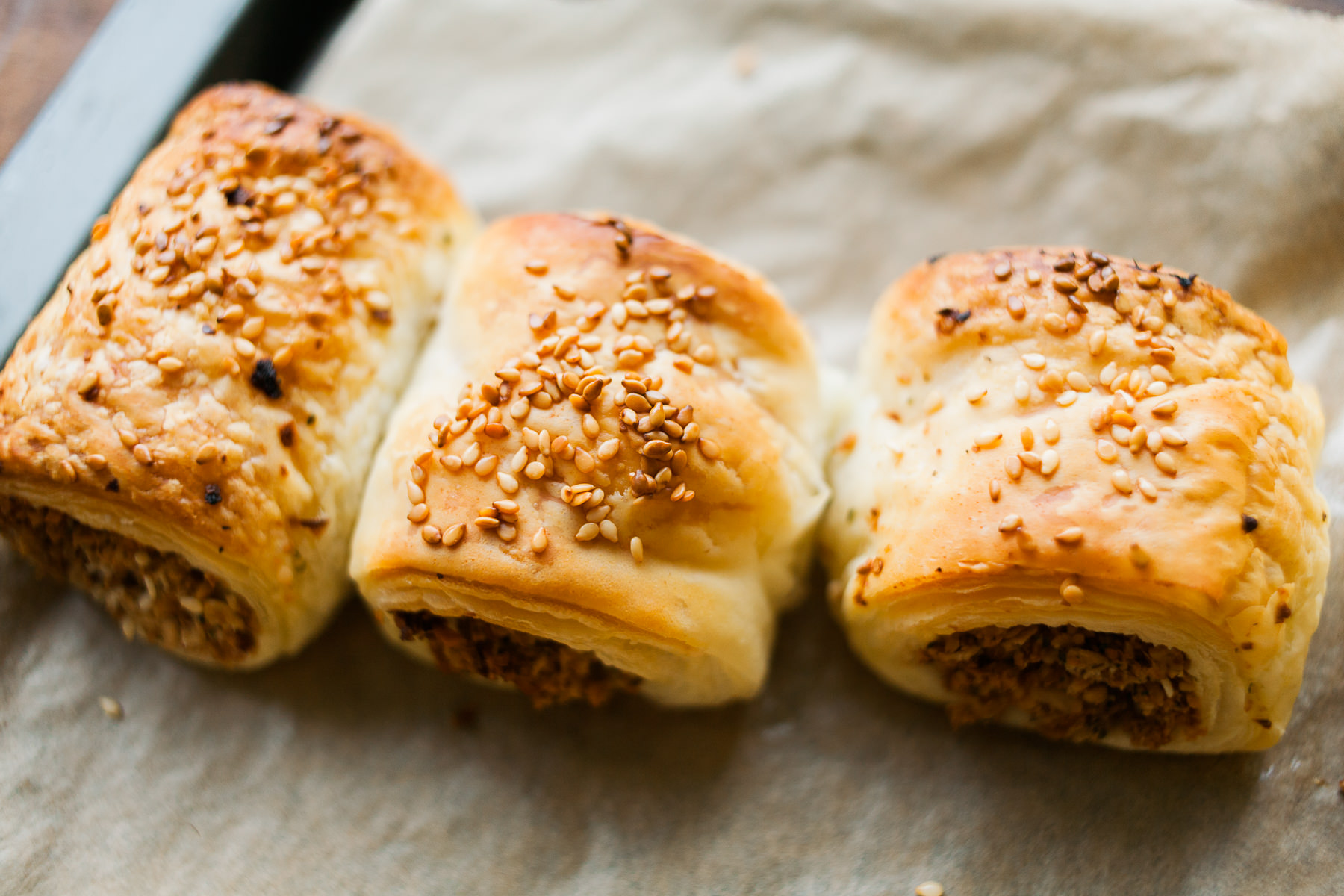 I have just eaten way too many of these. Excuse me while I just loosen my top button a touch. They are just so delicious it's not only impossible to not eat too many but I think it may actually be illegal to not over indulge on them. This is what I am now telling myself. They are truly meaty and crumbly and salty and addictive and ok maybe I have room for just one more?! I'll tell you about the recipe first. I found this on Pinterest and I truly didn't believe that such a vegan delight was even possible. (I've adapted it to our taste.) Everyone that's tried them has loved them, even our non-vegan family and friends.
I'd love to say they are quick to knock out but they are a bit of a process but it is so, so worth it. First of all, you need to make the vegan feta which begins with soaking the almonds overnight so give yourself plenty of time for preparation.
Ingredients
To make the almond feta cheese:
2/3 cup almonds, whole
2 tbsp lemon juice
5 tsp olive oil
1 clove of garlic
1 tsp salt
5 tsp water
To make the sausage roll mix:
1/4 cup flax meal
1/4 cup water
1 large brown onion
2 tbsp dried parsley
1 cup walnuts
200g almond feta cheese (from above)
2 tbsp soy sauce
1/2 cup breadcrumbs
1 1/2 cups rolled oats
1 tbs savoury yeast flakes
To build the sausage rolls:
2 packs of vegan ready roll puff pastry
2 tbsp almond milk
2 tbsp sesame seeds
Instructions
To make the almond feta cheese:
Soak the almonds overnight and then rinse off
Blend all the feta ingredients until smooth.
Sausage roll mix:
Mix the flax meal and water in a small bowl and allow to thicken then set aside
Blend the onion, parsley and walnuts
Take a large mixing bowl and add the almond feta cheese previously made, soy sauce, flax meal mix, breadcrumbs, oats and yeast and stir. (You can blend all of the ingredients to make it smoother but after having tried it both ways we prefer to just stir it, it adds more bite.)
To construct the sausage rolls:
Lay your ready roll puff pastry onto a board horizontally. Leaving a 3cm gap from the left edge pop some filling all the way down in a vertical line. Make the line about 4cms wide.
Then fold your pastry over the top of your filling. Slice down vertically into the pastry making sure you have enough excess to fully wrap around and seal with some almond milk. (Just dab it on with your fingers or a pastry brush.)
Cut into large or small slices depending on your preference and brush the tops with milk and sprinkle with sesame seeds. (Make sure sealed edge is underneath.)
You can either cook them straight away on gas mark 5 190C/375F for 20 minutes or freeze and cook later for 25 minutes.
I hope you enjoy them as much as we do. Maybe I'll just sneak off now and remind myself just how good they are…one more won't hurt, right?