Woolacombe 2017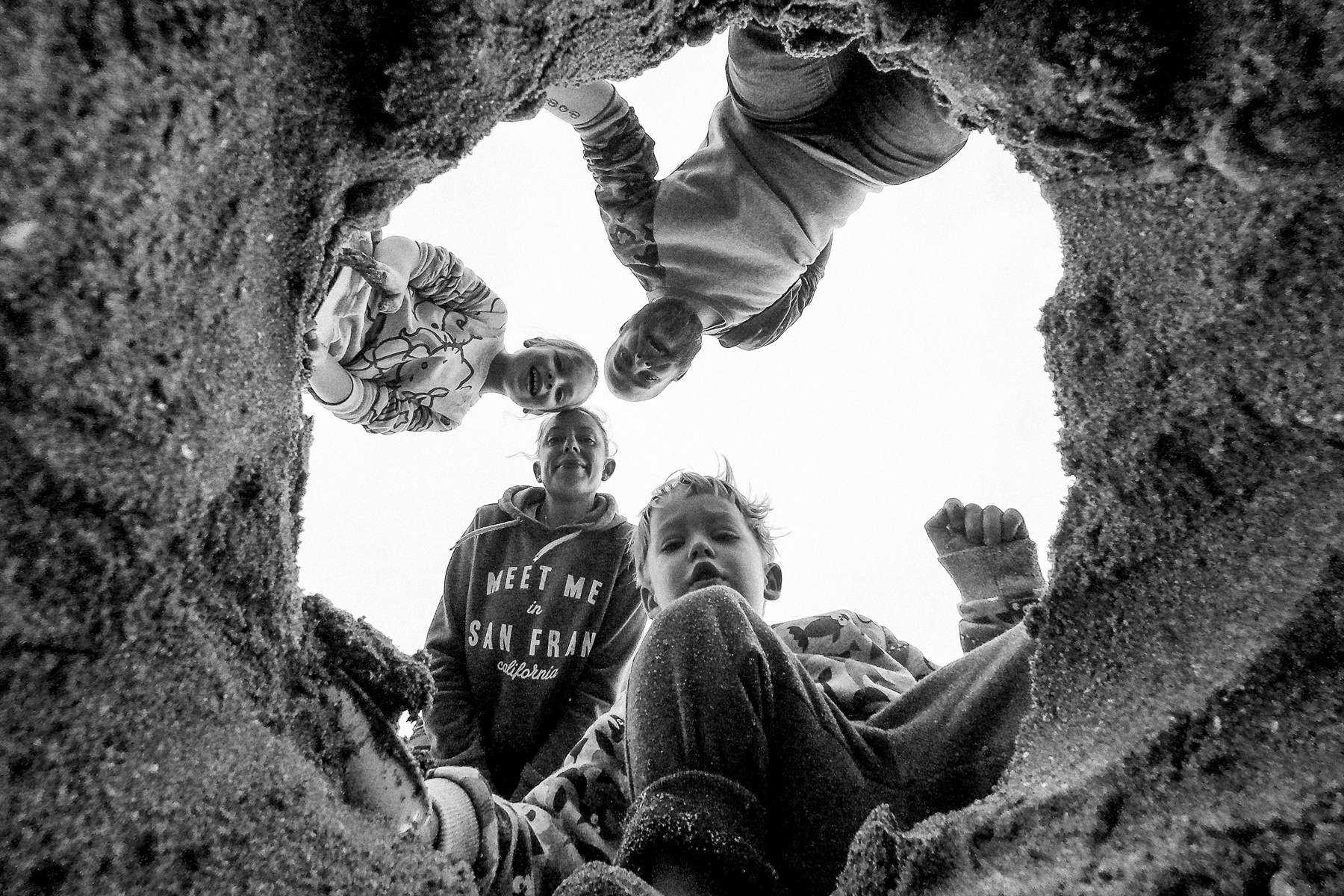 How do I begin to tell you all about a jam-packed one-week holiday? We did so much yet words can't really explain what a fantastic time we had. We went to a small place called Woolacombe situated in North Devon. I have been going on holiday there since a child and when Pops was 18 months old we decided to have our first family holiday there too. Since then we have visited regularly and had an array of both sunny and very rainy trips away. The last time we went Fin was just 2 months old so we were really excited to see his reaction this time around. And we were not disappointed, he had such a great time and so did we all.
When we first arrived it was grey and raining but we didn't let that dampen our spirits as in many occasion we have arrived at our caravan in the wet only to have a full and sunny week ahead so we were optimistic. Luckily after two days our hopes were realised when the sun came out and gave us a couple of glorious 'beach weather' days. And although it started off a little miserable it encouraged us to get on and do some activities that we wouldn't have otherwise have done. For example, pottery painting, kids club activities and one of my personal favourites, Fins first cinema experience!
Although we had lots of fun doing all of those things it was a welcome relief (especially for our bank balance) when it warmed up and we could go and have some free fun getting sandy tied on the beach! We literally spent the next couple of days playing in rock pools, building sand castles and eating sandy sandwiches. The only times we weren't on the beach we were in the swimming pool! It was so much fun seeing the kids so free. It was also so exhausting so when the rain returned we continued on with our activities. We went to a zoo, went on a nature walk and found some cows and explored some of the others holiday parks in the area.
As expected my words cannot come close to explaining what a fun packed holiday we had.
I shall leave you with a little fun question and answer session that I did with the family. It really does show you what made the holiday for us all.
Jo
1. Why do you like Woolacombe so much?
The beach! It's a brilliant beach for kids as there are so many rock pools to splash in.
2. What made this holiday so special?
I think the fact it was the first holiday when both the kids were old enough to enjoy it. They really bonded together this holiday and learnt how to play well together.
3. Was there anything you didn't like about this particular holiday?
Coming home? Not really it was such a lovely trip, the only bad bit was having to leave!
4. Do you have any tips for staying in Woolacombe?
However many towels you normally pack, pack double! If the weather is good or bad you will need so many towels. Beach, swimming and getting rained on. You need towels for it all.
5. Did you find it difficult being vegan while away?
Not really as we were self-catering and we arrived pretty prepared. However, we didn't really have a chance to eat out in the same way that we would have done in the past as chips seemed to be the only vegan options!
Paul
1. What did you do that you didn't expect to do?
Pottery painting. It was loads of fun too!
2. What made this holiday stand out from previous holidays?
Fin was at an age where he could really enjoy it. It was like a proper, complete family holiday.
3. What would you do differently next time?
Pack more than one jumper!
4. What is your favourite holiday memory?
Surfing was a highlight but to be honest, the whole holiday was amazing. The kids are such a lovely age.
5. What have you learnt from this holiday?
I think I learnt that no matter where we go or what the weather is we will always have fun as long as we are together. And it's by the sea!
Pops
1. Did you like this holiday more or less than previous visits to Woolacombe?
I liked this holiday more! Even though it rained sometimes.
2. What was your favourite bit of the holiday?
I really liked going for walks down the beach and swimming.
3. What part of the holiday do you wish we did more of?
I wish we the weather had let us go on the beach more. Also, I could have gone swimming twice a day!
4. Was there anything you didn't like about the holiday?
Nothing. I just liked it all.
5. What would you give the holiday out of 10?
9 out of 10 because the weather wasn't perfect.
Fin
1. What was your favourite bit about the holiday?
I really liked the beach and having ice-creams.
2. Do you like Billy or Betty Beach Ball best?
Billy.
3. What is your favourite ice cream flavour?
Chocolate
4. Did you like swimming or the beach better?
Swimming
5. Do you want to go there again?
Yeeeees!!!!