Vegan Lemon & Lime Shortbread Biscuits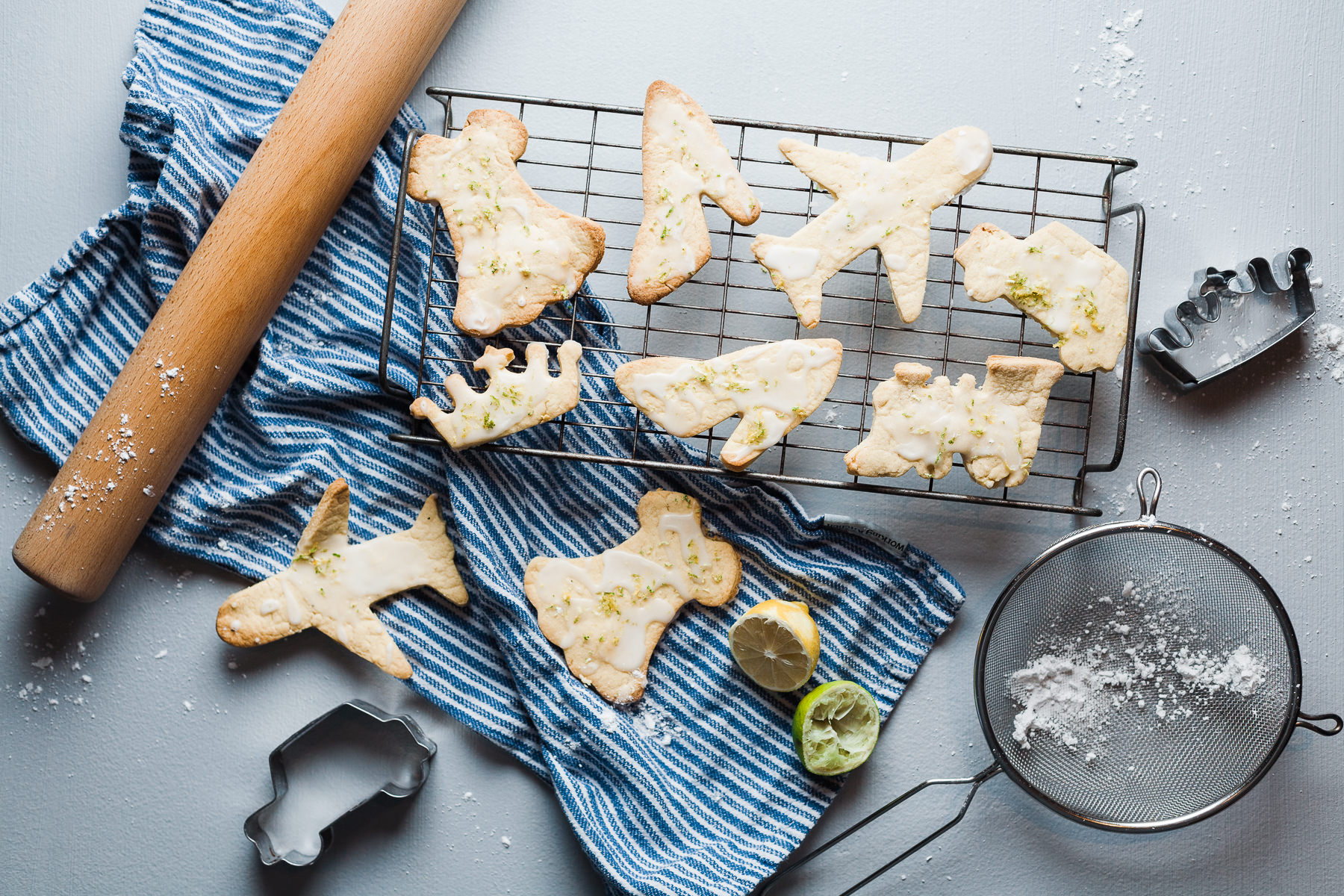 Both of our two just love cooking. Quite often I will be in the kitchen preparing breakfast or lunch and a little head will pop around the corner and say "Mummy, can I help please?" I think it's so important to involve children with cooking from a very young age but I feel it has become even more important since becoming vegan. I think it really helps them to learn about the new foods they are trying and the beauty and vast array of plants we now eat. For example, if I expect them to drink a green smoothie, then it helps them to know that actually, the smoothie is full of mango and orange as well as spinach and wheatgrass. That way they know that their drink is going to taste sweet and not like blitzed up broccoli. (Yes, I have mistakenly made broccoli smoothies before. Don't do it. Please don't do it.) It also encourages creativity and an understanding of flavours as they can pick and choose their ingredients too.
Their enthusiasm for cooking got myself and Paul to thinking that maybe we should create a child-friendly section on the blog. I'm sure you can imagine that we spend more time than the average person in the kitchen and I didn't want to limit our blogging time to just Paul and I as that would mean less quality family time together. So, now we are going to be opening up the kitchen doors and bringing you the kids cooking too. We can't promise that the finished product will look as refined as the usual Real Family Journey products but I promise you that the recipes will be simple, delicious and 100% vegan. We hope that they will be a great way of you encouraging your children to bake and cook whilst making healthier and more compassionate food choices.
So here is their simply delicious recipe of lemon and lime shortbread:
Makes approximately 14 biscuits
prep time 15 minutes bake time 15 minutes gas mark 5 375f /190c
Ingredients
For biscuit dough:
1 tsp lemon essence
Juice of 1 lime
100g caster sugar
300g plain flour (Extra for flouring)
225g vegan butter (We used Vitalite)
For the icing
1 cup of icing sugar
Juice and zest of one lemon
Juice and zest of one lime
Instructions
Cream together the sugar and butter
Sieve the flour in.
Add in the juice and essence
Get tickly fingers into the bowl and combine all of the ingredients until they form a ball of biscuit dough
Wrap and pop in the fridge for half an hour (while you clean up the floury monsters in front of you!) to allow the dough to set a little
Flour your surface and rolling pin and roll out the dough to 1/2 cm thickness
Use your favourite cookie cutters to make shapes and reroll the dough until it is all used up
Pop onto lined baking trays and bake in the centre of the oven for around 15 minutes
Check in case your tray needs turning throughout the cooking process
Once baked leave to cool on a rack
Sieve the icing sugar into a bowl (yes your children will look like they've been to the north pole by the end of this process!)
Zest your lemon and lime onto a plate and set aside until the end
Juice your lemon and lime into a cup and slowly add into the icing until you find the right consistency. If your icing is too runny then add more icing sugar and if it's too stiff then add more juice or a little water. You don't want it too runny otherwise it will all drip off
Once iced than sprinkle with the zest
After a cheeky taste test then set them aside to set.
With all of our children's recipes, we ask you to only give age-appropriate tasks to your children and ensure that they stay away from hot ovens and sharp knives and to never leave them unattended in the kitchen.
These biscuits are buttery and crumbly just like regular shortbread. The lemon and lime twist adds a lovely fresh element to the biscuits and sprinkling them with zest is a great healthy option compared to shop bought biscuit sprinkles. I'm sure you and your little ones will love these pretty biscuits and they are a great staple recipe to return to time and time again. Enjoy mini fam followers! Enjoy!