Turmeric Houmous/Hummus?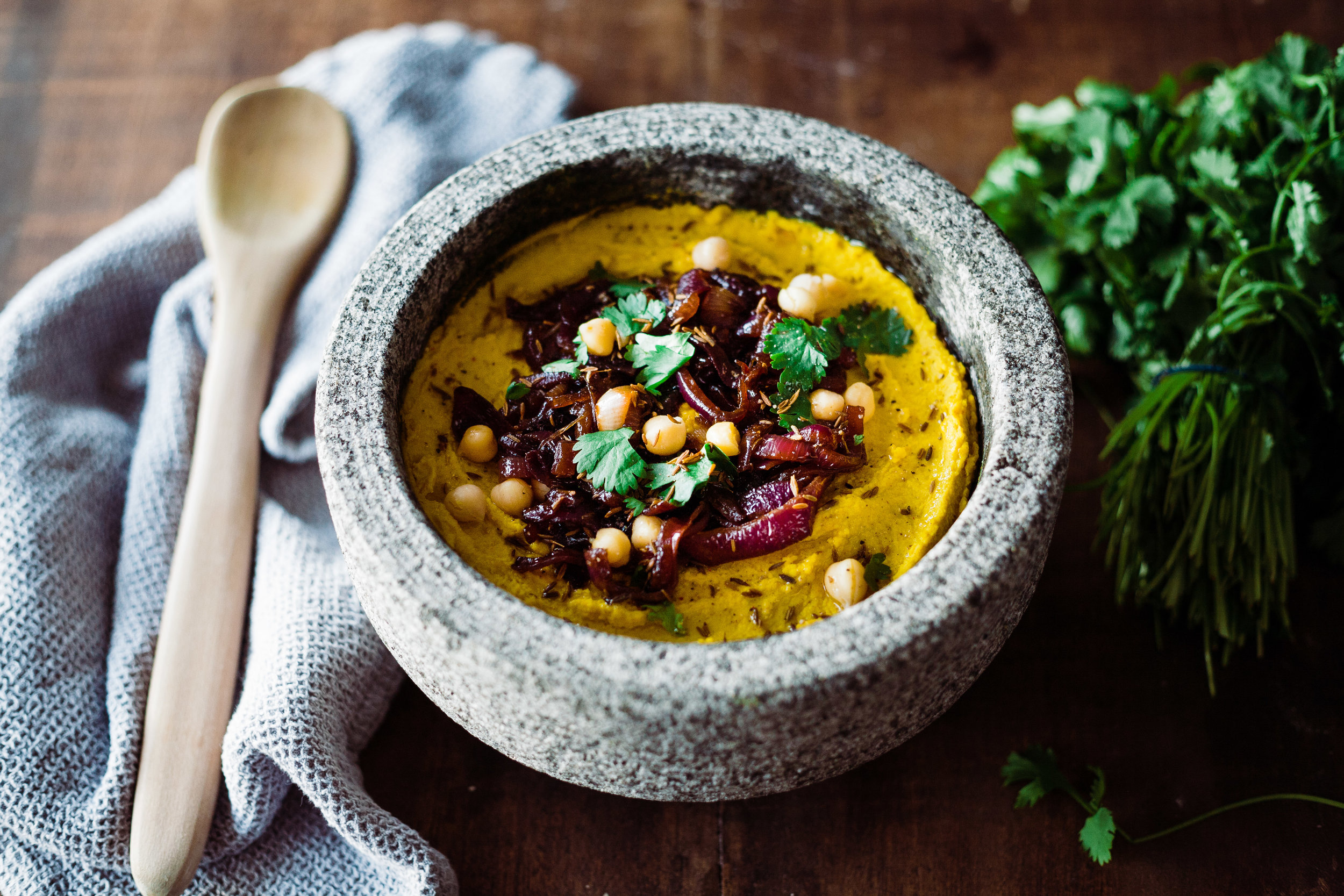 Houmous or hummus? It appears nobody really knows. I've researched, read and even put out a poll on twitter to try to find the answer to this question and I'm still finding it hard to commit to one spelling. You see I've always swayed towards the houmous spelling as it seemed to me to be the more authentic spelling somehow. (Bear with me.) Then darling hubby suggested that it may not be the correct spelling after all (spanner in works.) So we took to asking our twitter family who gave us a 72% vote in favour of hummus. However, it wasn't the biggest poll with only 18 votes and I was still not convinced so after a little research I have come up with this; The American English spelling is houmous and the British English spelling is hummus. The word 'hummus' comes from the Turkish word 'humus'. And apparently, the Arabic word 'himmas' is the word for chickpeas! Confused? Me too! Both spellings have been recognised by the dictionary so I think it's a matter of choice. I'm sticking with my gut on this one and calling it houmous. It will just have to be one of those things hubby and I will have to agree to disagree on. How do you guys spell your houmous?
Now on to this 'houmous' recipe. (Sorry if me spelling it that way is really annoying the 'hummus' camp out there.) I have made homemade houmous several times and I have to admit that I've been left feeling a little short-changed. I've found that the heat of the garlic has overpowered the dish and not left much room for any other flavour. However, homemade houmous is so much healthier and cheaper to make so I wasn't going to be put off any longer. I was really keen on making it a family favourite as both my kids love shop bought houmous but didn't seem overly fussed when we made it ourselves. Since both my two love lentil dhal I thought I would try using some of the spices from that recipe to inject a little life into our chickpeas. It's so good! And it really worked a treat. They prefer the 'yellow' houmous as they call it now to the shop bought 'brown' one. (Who wouldn't when you put it like that, hey?) We topped the houmous (yes I've said houmous 18 times now! Aah!) with caramelised red onions and coriander. It really is a meal in itself.
Ingredients
Houmous:
2 400g tins chickpeas
Keep the liquid from the tins
4 tsp tahini
2 tsp turmeric
1 tsp cumin seeds plus extra for decorating
1 tsp salt
1 lemon juice
2 cloves garlic
6 tbsp olive oil plus extra for drizzling
1 handful Coriander
Caramelised Onion:
3 red onions
2 tbsp balsamic vinegar
1 tsp coconut sugar
1/2 tbsp butter
1/2 tbsp olive oil
1 pinch of salt
Instructions
Houmous:
Rinse the chickpeas (make sure you keep the liquid from the tins)
Put the chickpeas, tahini, garlic, cumin seeds, turmeric, salt, lemon juice and seven tablespoons of the reserved liquid from the tuna into a food processor
Blend slowly whilst adding the olive oil
When completely combined and smooth pop into a serving bowl
Caramelised Onions:
Pop the butter and oil into a thick bottomed pan
Slice the onions and gently heat in your pan until tender and soft
Add your sugar, salt and vinegar until syrupy and sticky
Serve on top of the houmous with a handful of coriander, some cumin seeds and a splash of olive oil.
Apologies again about the crazy houmous rant! I'd honestly love to hear how you guys like to spell it. Oh, and before I forget, houmous autocorrected is joyous! Which I think says it all.