Sweet, Sweet Strawberries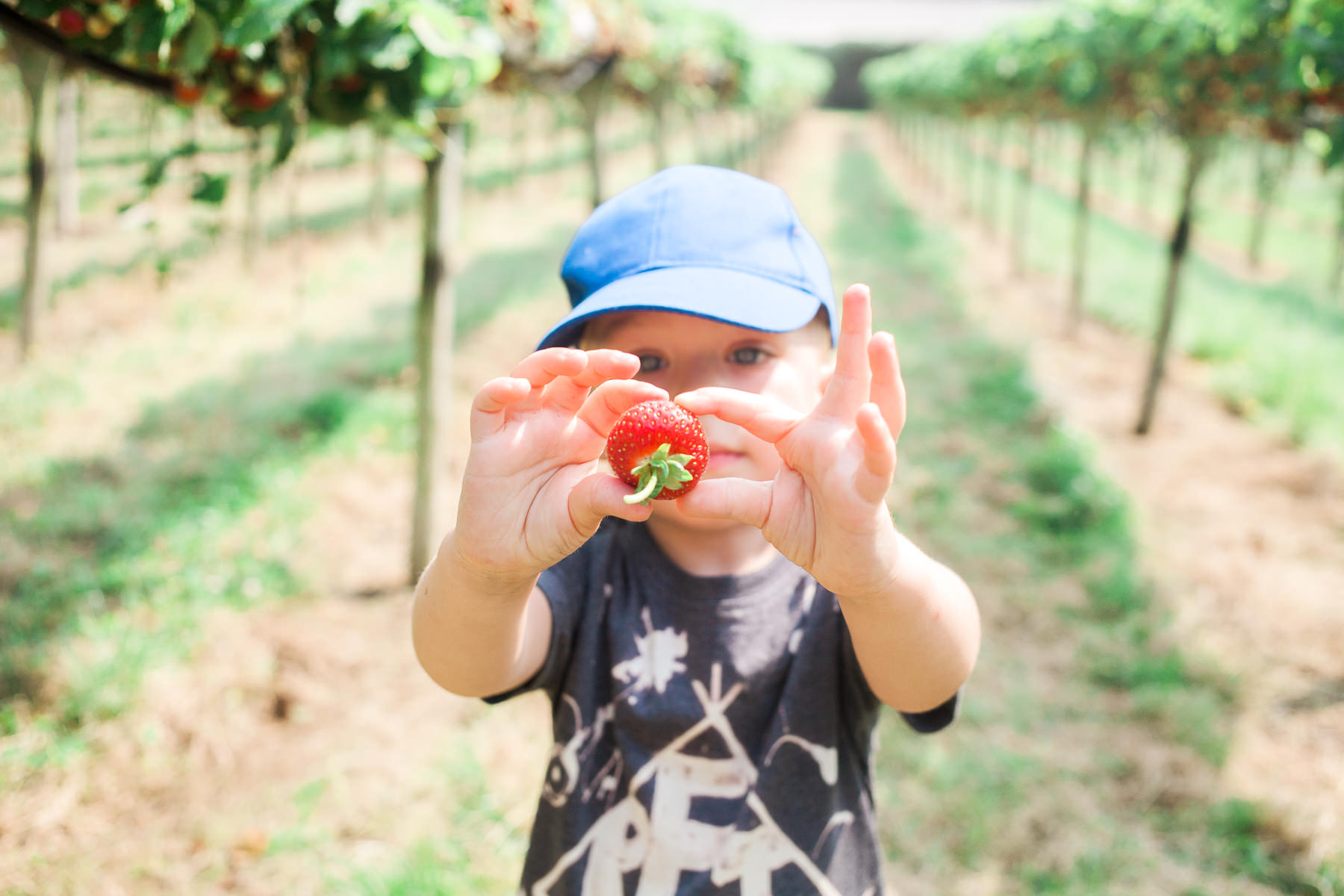 Oh, this is such a lovely blog post. Just remembering this day makes me feel all happy and fuzzy inside. We had literally been counting down the days until it was the perfect time to go and it had finally come. It was the day to go strawberry picking. It was during our staycation so Paul was off work and it was a beautiful sunny day. If there is one thing that our country does well it's growing the sweetest strawberries. Both Pops and Fin love fruit and in particular strawberries so we knew this was going to be an epic day out for them too. I was so excited!
When we arrived we were given a talk on where the best rows for picking were and what fruit and vegetables were available for this season. However, we were on a strawberry picking mission, blinkered and oblivious to any other offerings they had. So we picked the largest basket they had and intended to spend our weekly shopping budget on an obscene amount of the juicy red fruit. Yum!
It was such a beautiful place. They had a giant strawberry balloon in the sky and a sweet little children's park attached. They also had a very well stocked farm shop too and if I hadn't have spent so much on strawberries I surely would have fallen down the rabbit hole of beautiful organic purchases on offer.
So we set off for row 3 with the promise of the juiciest, plumpest treats and we were not disappointed. Fin's face was a picture. I don't think he could believe his luck when he realised he was allowed to pick these gorgeous specimens and put them in his basket.
We had a great time wandering down the rows and teaching the kids about the strawberry flowers, seed germination and how to grow them. It was one of those lovely examples of finding home education so easy. The lessons and inquisitive questions flowed back and forth with on hand examples in a no pressure environment. And I promise Fin only stole 3 strawberries! (A miracle, believe me.)
With our full and very heavy basket, we went to purchase our goodies and sat down at the picnic bench and started to devour. Our gorging was only slowed by the finding of a baby caterpillar. (We decided to maybe wash the rest before continuing.) We spent the rest of the morning enjoying the park before heading home and continuing our strawberry picnic.
I think we got a little carried away with the picking as we had enough strawberries to share around all of the extended family and still had some 3 days later. But do you know what? We never got sick of eating them and even as I write this I am still drooling at the prospect of just one more strawberry. Now I'm counting down the days until our next picking session. Yum, yum, yummy!
You can go and pick some for yourself at Primrose Vale. Follow this link for a guide to what's picking http://primrosevale.com