Lentil Dahl - 3-in-1 Recipe!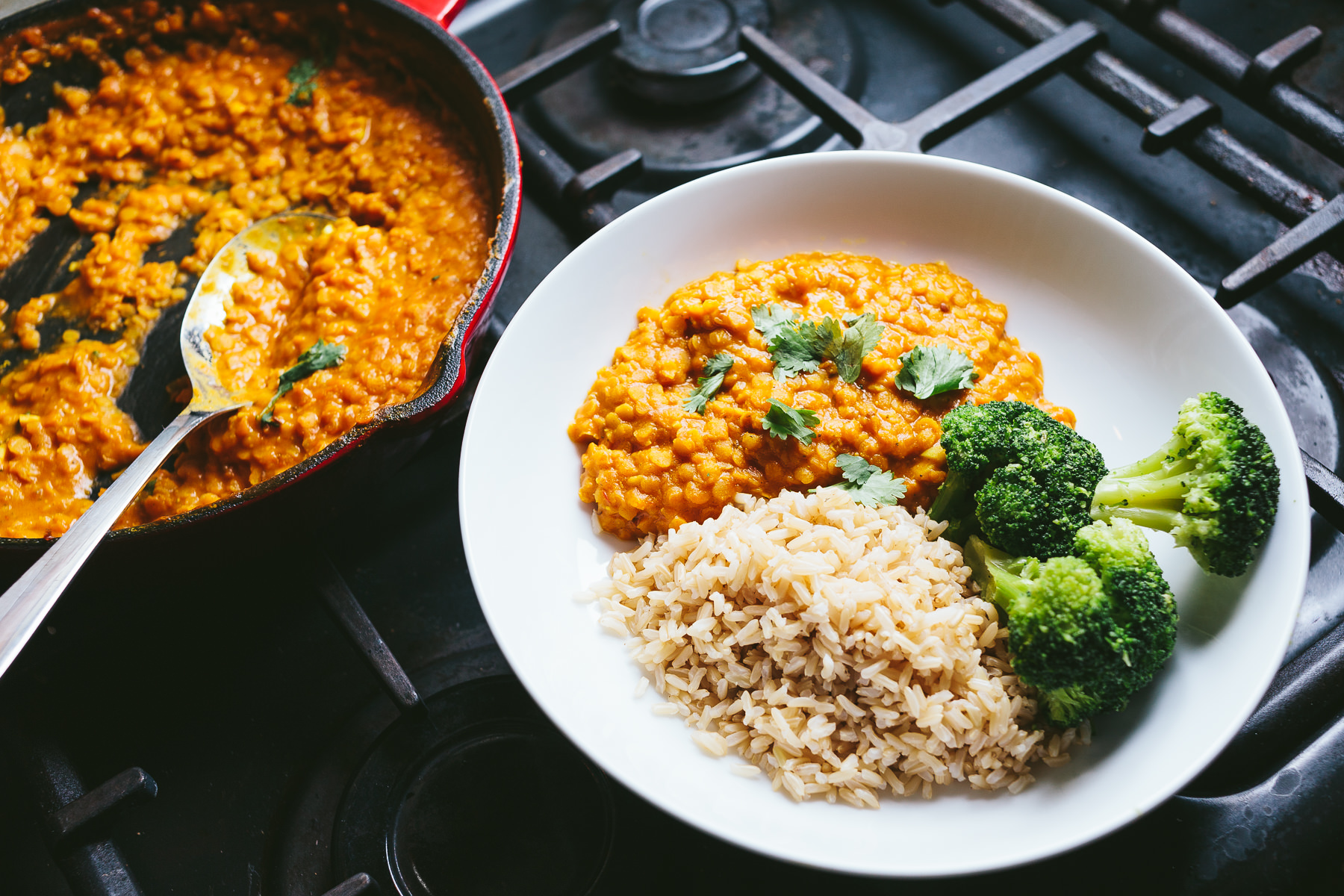 I can't tell you what a surprise this recipe was to me. Any vegan worth their salt will have heard of lentil dhal but it just never really seemed that appealing to me. However, so many people on their blogs and vlogs were talking about it that I thought I should give it a whirl. And boy am I so happy I did! I'm so excited to share this recipe with you. It's been tried and tested on vegans and non-vegans alike and everyone asks for more and begs me for the recipe. It is such a cheap and easy way to get so much goodness into you and your family. And it really is truly delicious! Also as an extra special treat for you guys, I'm adding two fantastic dhal leftover recipes for you also! I know, I'm just a generous kind of gal, what can I say?
You can tailor this recipe to your own personal taste but as I cook for two little ones who aren't a fan of things that are spicy, this is the tame version which is more fragrant than hot. However, if you love the 'tongue tingle' like I do feel free to whack a whole load of chopped red chilli in before, during or after cooking.
We cook this meal in our cast iron pan because this sort of tomato based sauce really does absorb iron well and as vegans we are always trying to find ways to increase our nutrient levels but you can also cook this in any deep pan you enjoy using.
Ingredients:
1 tsp olive oil
200g red lentils
500ml veg stock
1 tablespoon of fresh ginger
4 cloves of garlic
1/2 teaspoon peppercorns
1 teaspoon garam masala
1/2 teaspoon coriander seeds
1/2 teaspoon cumin seeds
1/2 teaspoon mustard seeds
2 teaspoons turmeric
1 teaspoon onion powder
1 400ml tin of coconut milk (full fat)
400ml passata
1 lemon
Coriander to serve (optional)
Instructions:
Rinse the lentils and set aside
Grind all of the spices and pepper in a pestle and mortar
Chop the garlic and ginger finely and fry in the olive oil until soft
Add the stock
Add the lentils
Add the spices
And the coconut milk
Add the passata
Heat gently and stir often (like you would a risotto) until all of the juices have absorbed
Add the lemon and coriander
Serve with either rice and broccoli or bread and Popadoms for dipping.
I know it may seem like you need to buy a lot of ingredients for this dish but they are all pretty cheap and you only use a small amount so they will last a long while. You can also use these spices in many other recipes, especially scrambled tofu 'egg' (recipe coming soon!) #bestveganfoodever!
So on to the 'bonus' leftover recipes. Both of these have come about by accident as I can't bring myself to throw away any leftovers but sometimes there's just not enough to do a full family meal.
Leftover recipe 1- Lentil dhal wraps
Ingredients:
Wholemeal tortilla wraps
Iceberg lettuce
Sauerkraut
Peppers
Leftover dhal
Instructions:
Pop all of the ingredients into the wrap until it's fit to burst
Roll it up and enjoy it with the smug knowledge that your lunch really does taste better than everyone else's!
Leftover recipe 2 – toasted dahl pockets
Ingredients:
Wholemeal tortilla wraps
Leftover dahl
Instructions:
Pop a tortilla in the bottom of a dry frying pan
Place dahl in the very centre of the wrap and flatten a little
Pull two opposite sides up and place down on to the dahl making sure the two sides meet in the middle. Then do the same with the other two open sides. Makes sure that your little envelope covers any dahl
Toast on both sides until crispy
Enjoy your ridiculously amazing lunch and then thank me for introducing this little gem into your life! (It really is that good.)
I hope you guys enjoy these recipes as much as we do. We'd love to hear of any other ways that you enjoy your dahl too. Let us know!