Hygge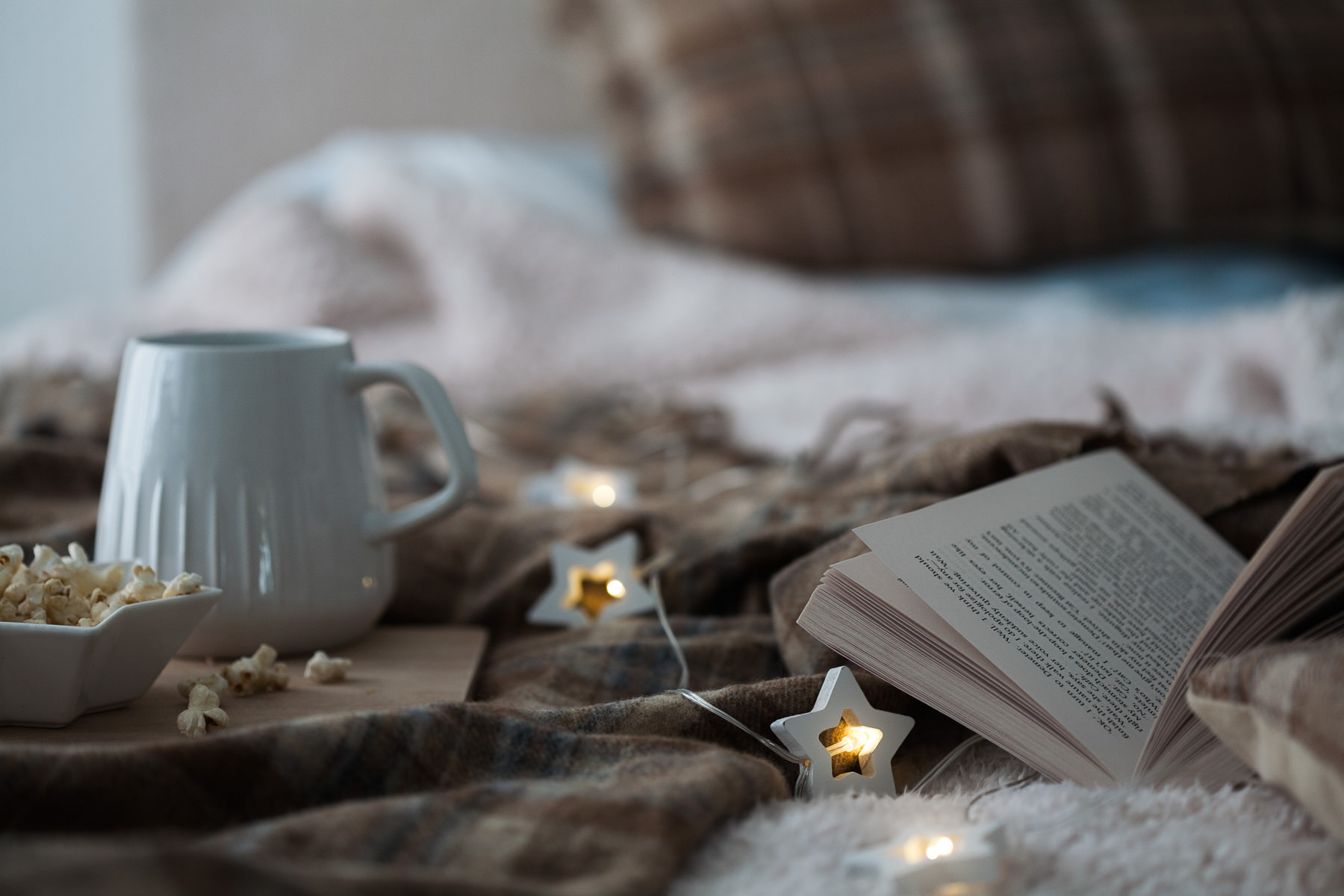 I have always found enjoyment in the old-fashioned. I prefer books over iPads and plants over room sprays but let's face it, it's hard not to get dragged into the dependence on phones, computers and social media. Sometimes I find myself picking up my phone to check it for updates when I realise I only did it 5 minutes previously! It just becomes a habit. I am also an all or nothing kind of a girl which means I either work out for an hour a day religiously for 3 weeks or I don't do anything. At all. I can't just buy a couple of accessories to liven up a tired room I have to completely redecorate and redesign half of the house. And honestly, I'm exhausted. I'm not sure how I came to be this way but I'm pretty damn sure I don't want to continue in this manner. I don't think I realised how cluttered my life was. It's not so easy juggling two different school-age children for home education whilst writing a blog, entertaining a Youtube channel, losing the battle of tidying the house and trying to produce home cooked plant-based meals around the clock that are nutritionally balanced...and exhale! Phew! It's exhausting just writing about it. Now I know so many mums out there are doing a fantastic job of holding it all together but for some reason, I was really struggling to give my all to each and every part of my life.
So I decided to take action and decided to declutter a little. I thought that maybe if we had less 'stuff' and everything had its place then at least at the end of each day it wouldn't look like the house had been ransacked which would give me more time to lesson plan etc. It felt sooo good! So I did a little more sorting out, a little more throwing out and I started to feel a real sense of invigoration. I think I felt like I was actually doing something to make
it better instead of just making do and wading through the chaos of the day. I started researching minimalism and getting excited about the prospect of living in a stress-free environment. Giving my mind more time to focus on the tasks at hand.
So 'What has this got to do with hygge I hear you ask?' Well, my friends, this was the beginning of a year-long journey that brought me to hygge. So I had decluttered every room yet I still craved more. I wanted to get rid of all unnecessary things both in my house and in my mind. But my house was looking a little cold and sterile which is basically the opposite of what made me feel relaxed.
One day whilst on my beloved Pinterest I saw a beautiful pin of a cosy living room. It looked so inviting and with the word hygge written above it my interest was piqued enough to delve inside. This was the moment I found what I had been looking for. For those of you who don't know, hygge (pronounced hoo-gah) is a Danish term given to a way of living that takes pleasure from the simple things in life. There is no English translation for the word hygge as it is simply a feeling of peace, calm and cosiness.
"The true secret of happiness lies in taking a genuine interest in all the details of daily life"

William Morris
It has become something of a fad on the internet, all hot chocolate and fluffy socks but for me, it's become so much more. Let me explain. Finding Hygge meant that I could strip away all of the unnecessary things from my life (the best bit of minimalism) whilst enjoying the beautiful, cosy and enchanting side of life (what I found minimalism was missing) I have found that by applying hygge to my life I have been able to spend more quality time with my family, I've slept more hours each night and I'm able to contain my health anxiety better. I never knew that by having a focus, a style to apply to all avenues of my life would help me shake old ingrained habits so easily. Now instead of staying up and watching back to back love island episodes before bed I read a book. Instead of planning big and expensive days out with the kids we take a picnic up the hill and instead of doing sporadic exercise regimes I try and do 15 minutes every morning of gentle exercise. We are by no means fully converted. It's a process. Every day we are questioning our choices and attempting to still rid ourselves of the junk we've accumulated but I know we're on the right path to a little more calm.
So that's my story. Let me give you the 101 of hygge in case you've been inspired to head into the mindfulness and leave the chaos behind.
Home
Surround yourself only with things that serve a purpose or things you love to look at
Bring the outdoors in with plants and photos of outdoor memories
Turn your bathroom into a cosy spa
Use calm, warm and neutral decor throughout
Always use snug bedding and large headboards
Use natural fabrics and materials
Have plenty of happy photos displayed
Use fairy lights and candles galore!
Mindfulness/moments
Get rid of things you don't need
Have phone free evenings
Take walks every day
Leave work early or sit outside on your lunch break and watch the world go by
Puddle splash when it's raining
Listen to music instead of watching tv
Read books
Play games with friends and family
Have a movie night with warm popcorn
Make a den with the kids
Bake Have friends over for dinner
Go exploring in your local area(I could go on and on but you get the idea)
Food
Warm drinks. Hot chocolate, mulled wine, cinnamon latte
Baked goods
Slow cooked meals
Anything cooked with the kids!
Accessories
Throws
Fluffy socks
Cosy mugs for hot drinks
Pyjamas or comfy clothing
Jumpers
Winter hats/scarves
Candles
Plants
Fairy lights
Wellies
Go get your hygge on! You'll thank me for it later when you're all cosied up with toasty toes and roses in your cheeks after a stroll out with the family. Share your hygge stories and photos with me, I'd love to hear from you. Hygge? You-gah!