Healthy Halloween Feast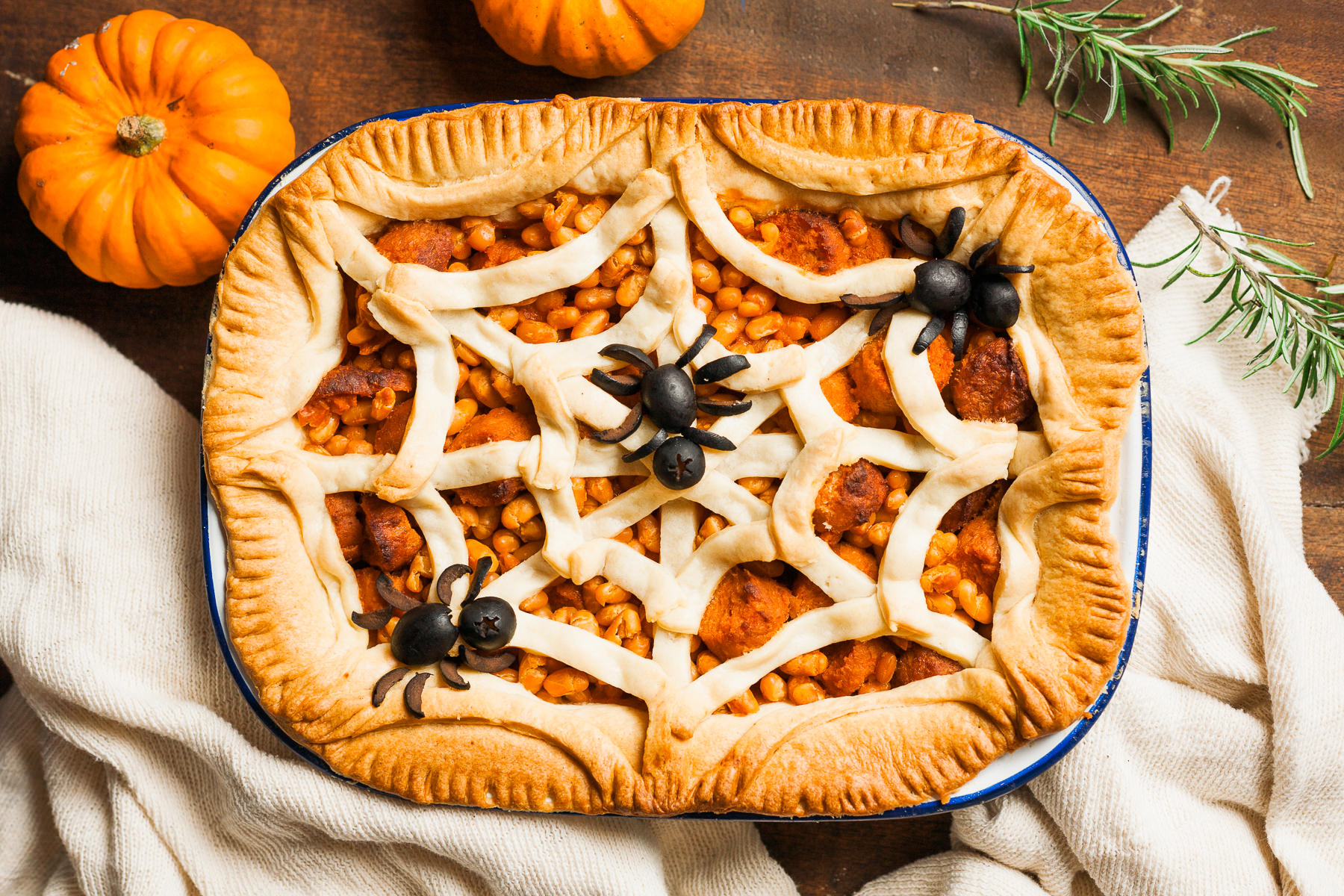 Halloween is a strange time of year for us. I've never really been fussed by the celebration and since having the kids they both seem rather more frightened than excited by it. I hate how you are greeted with scary masks every time you enter a shop. Pops, in particular, is very sensitive to this. On the flip side, they see all their friends getting excited about it and somehow sense they want to be doing something to mark the occasion too. This is why each year we celebrate Halloween with a quiet family dinner, followed by a few games.
After spending many hours trawling Pinterest for some healthy Halloween inspired dishes and coming up with a face drawn on a tangerine or over-sugared treats I decided to share with you our take on a very simple, healthy and themed meal idea.
This meal plan is really quite delicious, extremely nutritious and still super fun for the kids. (Or big kids!)
Halloween Spider-web Pie
Serves: 6 people
Ingredients
2 tins of baked beans or homemade beans
8 vegan sausages
2 pack 375g ready rolled shortcrust pastry
1 tsp dried rosemary
A few black olives for the spiders
1 tsp of butter or oil for greasing
Instructions
Cook your chosen vegan sausages in the oven per their packet instructions and then allow to cool
Chop sausages and add to a mixing bowl
Add the beans and rosemary and mix through
Grease your pie dish with your butter/oil
Lay your first sheet of pastry in the bottom of your dish. Don't worry about it flapping over the edges. You can cut the excess off later
Fill your pie with the cold bean mixture
On a board lay your second sheet of pastry (keeping it on the lining paper) and roll it out flat
Slice 1cm strips. Depending on the shape of your pie dish you may need to either cut down the short edge of your rectangle or the long edge. We cut down the short edge
Use 4 strips for the base of your spider web. Start by doing a vertical line down the middle and then cross over it with a horizontal line across the middle. Then use your other two strips to cross over diagonally
Then join each of your main spokes together with shorter strips of pastry
Bake in the oven. Gas mark 5 / 375f for 40 mins. (Check regularly and if it browns too much then cover with foil)
While it's cooking then set about making your olive spiders. Slice the criss-cross end of an olive off and this will become its head. Then take a second olive and slice in half the opposite way (lengthways) and half of that will be its body. Then slice the remaining bits of olives into long, lean slices to make the right amount of legs. When your pie has cooled a little then place your spiders on the web. (Be warned this bit is a little fiddly.)
What you'll need for the pumpkin platter:
1 small pumpkin and mini pumpkins for decoration
Houmous or chosen dip (check out this recipe for an amazing houmous)
A selection of your favourite vegetables. We used baby corn, potatoes, tomatoes, broccoli, carrot, pepper and cucumber
Setting up the pumpkin platter:
Take your larger pumpkin and take the top off
Scoop out the seeds and pulp. (Save the seeds for roasting!)
Line your pumpkin hole with brown paper (this means you can use your pumpkin again later on for roasting into a nice soup.)
Fill your pumpkin with your preferred choice of dip
Slice your veggies and if eating raw display around your pumpkin dip. (We cooked our potatoes and broccoli but left the rest raw.)
Golden Chocolate Apples
Serves: 6 apples
Ingredients
200 g dark chocolate
6 apples
6 Lollipop sticks
4 sheets edible gold leaf or any chosen sprinkles
Instructions
Break your chocolate into a bowl and pop into a larger bowl filled with hot water (Bain Marie) and melt
Pop a wooden lollipop stick into where the stalk comes out of the apple
Line a tray with brown paper
Once the chocolate is melted, dip the apples in to cover the bottom (twist while you do this) and then spoon over the top of the apple until it is completely covered
Drip the excess off back into the melting bowl and then pop onto the paper to cool
Once completely set take your gold leaf and dab pieces onto the outside of your apples. (If using other sprinkles then you'll need to sprinkle them on while the chocolate is still wet.)
What you'll need for the spookily healthy drinks:
Old peanut butter jars
Black sharpie pen
Almond milk (or any other plant-based milk)
How to transform your jars into spooktacularly awesome vessels:
Completely wash your peanut butter jars
Using a black sharpie pen draw on your spooky faces
Fill your jars with your chosen healthy drinks. (We used our sunshine smoothie and homemade almond milk.)
Add some fun/spooky straws.
Envolve your kids as much as possible because that is half the fun! (Especially the apple dipping as you can see in the photo of Fin below!) Then after dinner set up a simple Halloween treasure hunt or a game of pop the spider on the web and you will have marked the occasion in a child-friendly and fun way. I hope you all have a happy Halloween ????. Let us know if you have any vegan spooky recipes that we could try next year.