Epic Vegan Sausage and Cranberry Pastry Wrap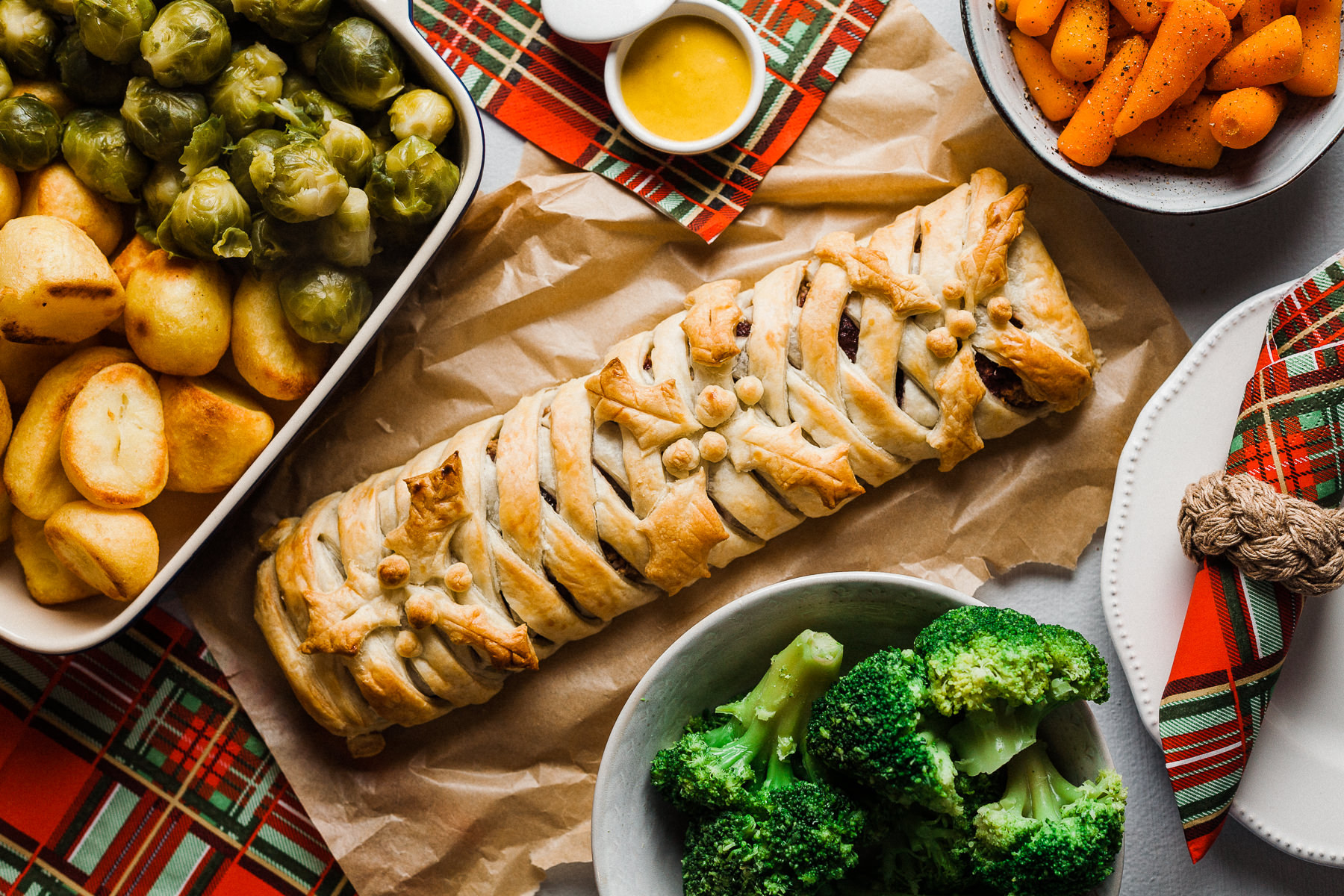 I am so proud of this recipe. I'm, not one to usually toot my own trumpet but with this one, it's really worth bringing out the whole brass band. Normally my recipes are inspired by other wonderful food bloggers or cookbooks or they are 'veganised' recipes of family favourites but this little beauty popped into my head one night whilst laid in bed thinking about our first vegan Christmas dinner.
I had set myself a challenge to come up with a meal that Pops would absolutely love. Fin will eat literally anything yet our Pops takes more time to transition to new foods which is why I'm so proud of how well shes adapted to veganism. The last Christmas I remember trying to encourage her to eat turkey, ham, beef you name it. I could tell she wasn't enjoying it yet I was concerned about her iron levels at the time so became 'pushy' mum and ruined her Christmas dinner experience by piling as much meat onto her plate as I thought I could get away with. So, it's no surprise that this year as new vegans I am keen to right those wrongs from last year and produce a meal that she simply can't get enough of so we can all have a relaxing Christmas lunch and I will know she and all of us are getting plenty of nutrition too.
Well, this got me to thinking about her favourite vegan meals and while I love lentil dhal I wanted to keep our Christmas meal as traditional as possible. Then my thoughts turned to pastry as you can pretty much wrap anything in pastry and Pops will eat it. The train of thought then continued to a meatloaf wrapped in pastry that she loves which inevitably brought me to her favourite sausage rolls and... bam! It hit me like a flying jingle bell tight to the head. A giant sausage roll! Or at least that would be how I sold it to her. For you upmarket, food critics out there it's a sausage and cranberry pastry wrap with a hint of sage but let's face it what kid would say no to a giant sausage roll on Christmas day? And the best bit?... It's not sausage at all but is loaded with oats, nuts, herbs and so many more nutritious whole foods. Winer, winner Christmas dinner I hear you say? You are so right.
So without further ado, I will share this unique and simply fabulous Christmas treat that I am sure will become ours and your new vegan family Christmas tradition. Oh and before I forget this recipe makes two wraps! Perfect for a large family get together or one for the freezer ready for boxing day.
Serves 5
Preparation time 20 minutes cook time 40 minutes gas mark 5 375f/190c
Ingredients - makes 2
To make the almond feta cheese:
2/3 cup almonds, whole
2 tbsp lemon juice
1 clove of garlic
10 tsp water
To make the sausage mix:
1/4 cup flax meal
1/4 cup water
1 large brown onion
2 tbsp dried sage
1 cup walnuts
200g almond feta cheese (from above)
3 tbsp soy sauce)
1/2 cup breadcrumbs
1 1/2 cups rolled oats
1 tbs marmite or nutritional yeast
To build the sausage rolls:
Jar of cranberry sauce (check its vegan-friendly, most are.)
2 packs of ready roll puff pastry (check its vegan-friendly, most are.)
2 tbsp soya milk
Instructions
To make the almond feta cheese:
Soak the almonds overnight ( or a few hours in hot water) and then rinse off
Blend all the feta ingredients until smooth
Sausage mix:
Mix the flax meal and water in a small bowl and allow to thicken then set aside
Blend the onion, sage and walnuts.Blend the oats and breadcrumbs (only a short while, you don't want dust, leave a bit of bite.)
Take a large mixing bowl and add the almond feta cheese previously made, soy sauce, flax meal mix, breadcrumbs, oats, onion, sage, walnuts and yeast and stir. (Season to taste if you wish.)
To construct the pastry parcels:
Lay your ready roll puff pastry onto a board lined with baking paper. (You will cook it on this paper.)
Using the photo guide score lines into your pastry. (The two vertical lines.)
Using the photo guide cut your diagonal lines down the side
Remove the triangle pieces from the top and bottom. (As seen in the photo.)
Place half of your mixture in the centre channel.Spread a generous layer of cranberry sauce on top
.Plait alternate sides of pastry all the way down. (You may need to remove the last couple of slats if you have already covered all of the filling.)
Use the excess pastry to make holly leaves and berries
Brush with milk and bake in the oven for approximately 40 minutes
Check regularly to make sure it doesn't burn
Turn or cover with foil and remove when its golden brown
You can cook straight away or freeze and cook from frozen at a later date.
I hope this blog post brings you festive cheer and allows you to kiss goodbye to the humble nut loaf of Christmas past. You too can have a feast fit for a king this Christmas!..."Ding dong merrily on high, la la la la la la la..."